BY HALIE KINES
UPDATED FEBRUARY 27, 2023 11:17 AM
COLLEGE TOWNSHIP For Dick Stever, the owner of Mayes Memorials in Lemont, the business isn't just a job; it's his passion. Mayes Memorials has been at its location in Lemont — 910 Pike St. — since 1924 but has been in Lemont since 1900 (it began near Houserville in 1880). According to a 1976 bicentennial history of College Township, Mayes Memorials is the township's oldest continuing business. In 1998, the Stever family purchased the business, according to the website, and has continued offering on-site design work and custom memorial installations. Though the industry has seen many changes over the years since Stever bought the business — including technology, the popularity of different types of memorials, and the increase of cremation services — one thing has remained true.
"So long as there's love in the world, people will always memorialize. It's that simple," Stever said.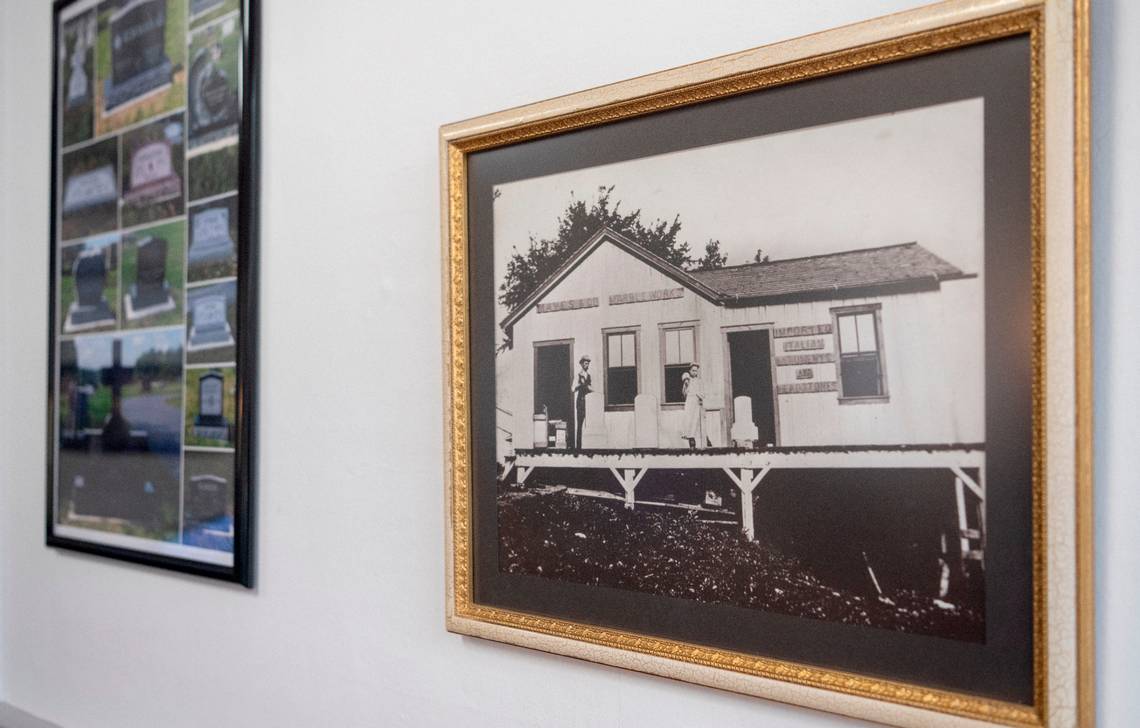 An old photo of the original shop hangs in Mayes Memorials in Lemont on Thursday, Feb. 16, 2023. Abby Drey adrey@centredaily.com
'IT'S BEEN A LONG RUN' Stever didn't know much about the memorial business when he was first starting out. "It's been a long run. It started 25 years ago with me not really knowing what I was doing," Stever said. He had been in the monument business at a much smaller scale for about 10 years before buying Mayes Memorials, he said. "I bought this business not understanding or having any knowledge of sandblast or the process of doing the artwork to make a memorial. So I learned on the job," Stever said. "It was pretty stressful at the beginning because I didn't know what I was doing. I was very good at sales, but I had a lot to learn. I became really self taught."
One of the keys to the business' success, Stever said, was building a shop behind the office because they didn't have any room to grow the business on Pike Street. This allowed them to provide much better service. They buy prefabricated monuments, so it arrives at Mayes Memorials blank and the artwork is done by the small team in Lemont. The shop where they do the artwork on the memorials previously was connected to the Pike Street office. In 2005, they purchased land behind the shop on Granite Lane and built a 2,500-square-foot shop. The implementation of technology — computers, internet, cellphones — was also critical to the success.
"Twenty-five years ago, a family would come in and say 'I want to get a monument like somebody in our family in Zion Cemetery.' And so I would drive to Zion Cemetery, take a photograph of that monument, and then go to the drugstore, get the film developed, mail it to Vermont to get a quote on it — you see how long this process is? It would take weeks and weeks and weeks just to get a quote," he said. Now, a family can come to the office, share a picture from their phone and in minutes they have a price estimate, he said. Beyond technology and expanding the shop, another big change over the years is what type of memorial people want. Imported monuments have become popular, as well as the use of laser artwork, which is primarily done on black granite.
People in the industry thought the increase in cremation would have an impact on memorials, but it hasn't, Stever said.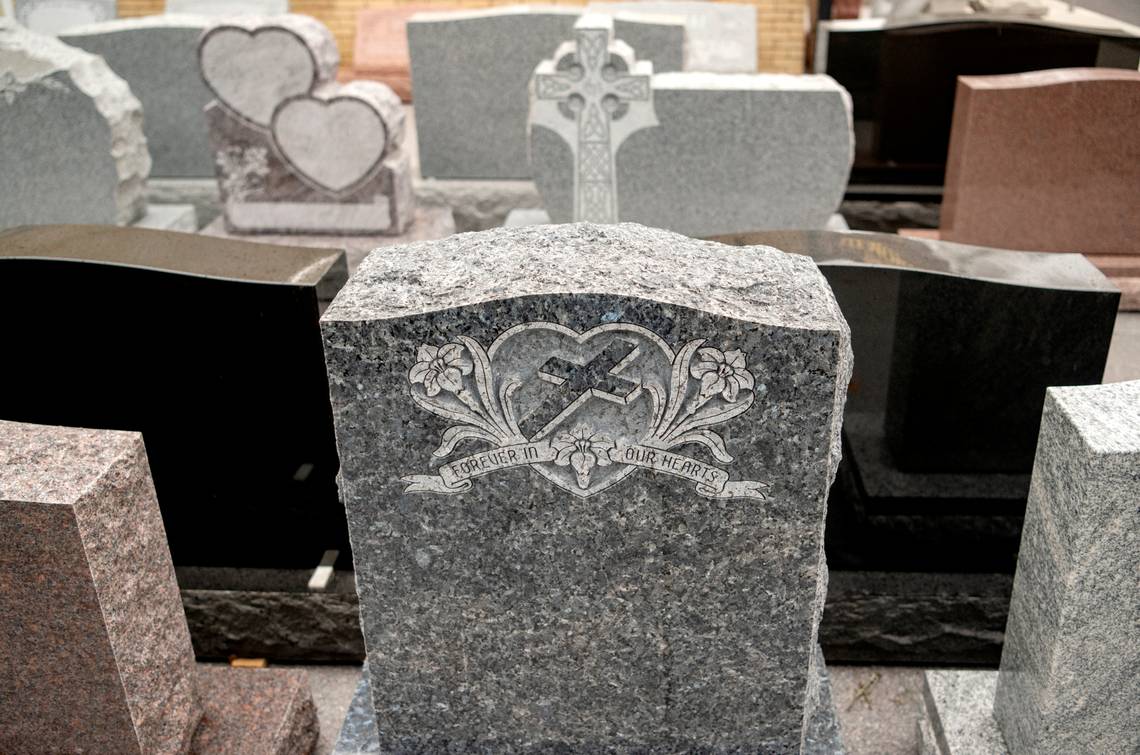 Stone examples outside of Mayes Memorials in Lemont on Thursday, Feb. 16, 2023. Abby Drey adrey@centredaily.com
HELPING PEOPLE TELL THEIR STORY Due to the nature of the industry, the majority of customers that Mayes Memorials encounters are grieving. About 15% of the sales are "pre need" sales, Stever said, where people are planning ahead. He wishes that percentage was a lot higher. "When people come to see us, you know, 80% of the time, 85% of the time there's been a loss and they're grieving and sometimes yes, it is very difficult," Stever said.
They have experienced sales consultants/counselors who can "help people tell the story they want to tell on a small piece of stone and help them get through their grief," Stever said. Looking into the future, Stever expects to see the industry trending more toward online purchases. "Memorialization is a very, very personal purchase. One of the most personal — if not the most personal. But that's the future that I see. And I'm hoping I'm on the other side when that happens, because I love meeting people. … I want to provide a service for them and I like to get to know them," Stever said. Leslie Hammond has been a memorial counselor at Mayes Memorials for more than 20 years. When a family comes in, Hammond said they'll start by asking which cemetery the memorial will go to, because some cemeteries require certain things. She asks what they're looking for, what color, then if they want a slanted, flat or upright one. She'll ask what they want written on it, and if they want any other designs, like flowers.
Once the design is completed and the customer signs off on the proof, the design is transferred to the shop office and the stencil is cut out in a machine. Jack Dorminy has worked in the shop at Mayes Memorials for four years. In the shop, they have a hand booth for sandblasting and an automatic booth. The memorials will arrive at the shop in one, shiny and polished piece. In the shop, they put a stencil on it and do the sandblasting work in the shop. For laser engraved pieces, they send them to a company in Vermont. "What's cool is people will take a scene or something that they like and get it etched in," he said. "Or their house, or their cabin — cabin is a popular one."
Mayes Memorials also does the installation and maintenance of the memorial. Due to poor weather and frozen grounds, they're typically not as busy with this aspect during the winter months. But in the spring, they'll bring a truck, trailer, digger and a gator to dig several holes at once at a cemetery, then fill the holes with cement. When the cement is hardened, they can set the memorials. This story was originally published February 25, 2023, 6:00 AM.
Halie Kines reports on local government for the Centre Daily Times. She grew up in Penns Valley and graduated from Penn State.